Nozzle: 0.4 mm
In Stock
(3 pcs)
Nozzle: 0.6 mm
In Stock
(>5 pcs)
Product detailed description
Universal nozzle for versatile use
Universal size and Unique Design
DURABLACK nozzles with a length of 12.5mm and an M6 thread are compatible with most of the common used hot-ends on the global market. They excel in properties, durability, ability to print up to 500°C and, last but not least the appearance caused by the production process. The tip of the nozzle is designed to reduce material draw and ensure optimal ironing.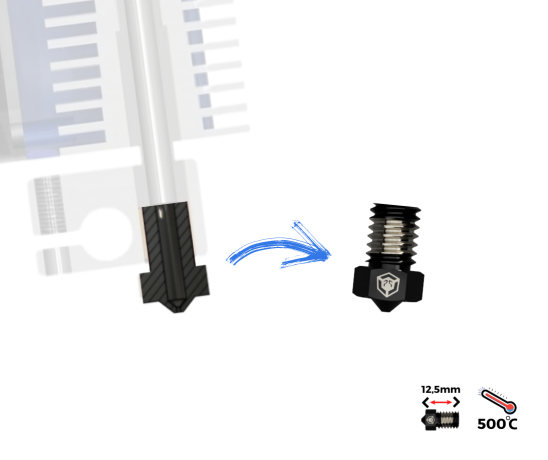 Lightning heat transfer and Durable surface
Perfect Conductivity & Resistance
By using an industrial copper alloy, the nozzle achieves a thermal conductivity of 330 W/mK, which is many times more than commonly used materials such as brass or hardened steels. The result is faster printing thanks to better energy transfer to the material, less energy required to heat up, and therefore lower consumption. Durability is ensured by industrial double coating.
Nickel coating and Ultra-hard layer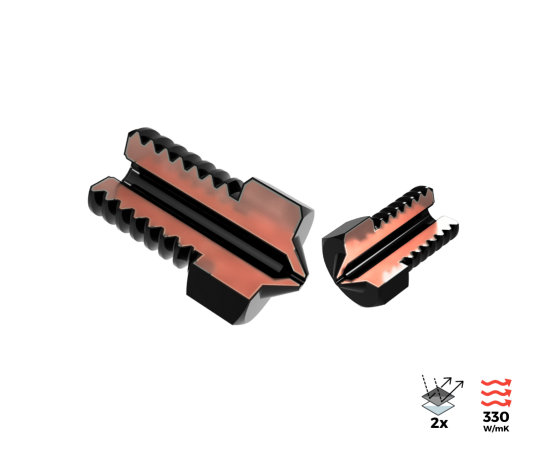 One Nozzle, Two Coatings
Double coating with Nickel base layer and ultra-hard outer layer. The layer reach a microhardness of over 5000 HV (>9.5 Mohs) due to the presence of sp3 bonds within the range of 80 - 90%. The smooth and extremely hard coating secure wear-resistance. Thanks to its very low coefficient of friction and low tendency for the material to stick, this nozzle offers an excellent choice for printing materials that tend to stick as well as highly abrasive materials.